The Fondle Tour is a three-person show presenting new work by Mitra Saboury*, Nina Sarnelle** and Megan Snowe*** in an intimate event of everyday erotica, humor and doubt. In Saboury's videos, her body is used as a tool to clean the surrounding environment. Sarnelle's Tell me about yr research is a language-driven music set that interacts with projected video. Snowe will read from a collection of soft-core raunch short stories about bodily detritus.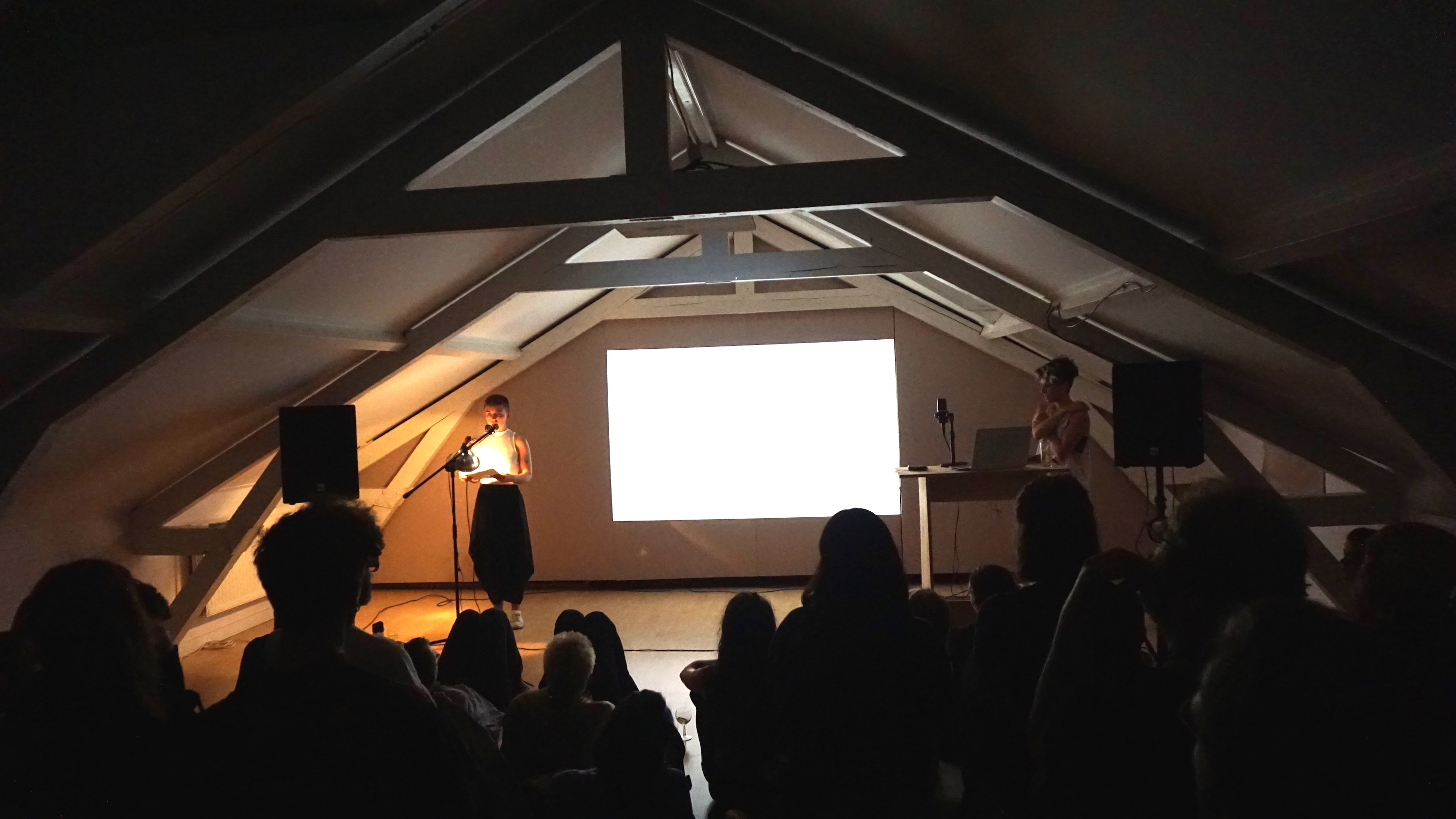 The Fondle Tour, at Marwan on June 14, 2018
thank you for coming!
*Mitra Saboury works with video, sculpture and performance, with a BS in neuroscience from the University of Pittsburgh (2010) and MFA from Goldsmiths, University of London (2013). Solo exhibitions include Out_Sight, Seoul; Grand Union, Birmingham; and Smart Objects, Los Angeles. Group exhibitions include UK City of Culture; and The London Open, Whitechapel Gallery. Saboury is one half of Meatwreck, a photographic collaboration with Derek Paul Jack Boyle. She currently lives and works in Los Angeles.

**Nina Sarnelle is an artist and musician living in Los Angeles, with a BA from Oberlin College and an MFA from Carnegie Mellon University. She is a founding member of the Institute for New Feeling and dadpranks. In the last few years her work has been shown at Whitechapel Gallery, Hammer Museum, the Getty Center, Ballroom Marfa, MoMA (NY), Istanbul Modern, Neuer Berliner Kunstverein, NADA Miami, Museum of Art, Architecture & Technology (Lisbon), Fundacion PROA (Buenos Aires), Black Cube (Denver), Southern Exposure (San Francisco), Recess (NY), UNSW Galleries (Sydney), Project 88 (Mumbai), Villa Croce Contemporary Art Museum (Genova), Mwoods (Beijing), Museum of Contemporary Art Cleveland, Human Resources (LA), and featured in Frieze, Art in America, Vogue Italy, Huffington Post, SFMoMA, Creators Project, FlashArt, and Hyperallergic.

***Megan Snowe works in a variety of mediums including installation, animation, text, drawing and sound. Snowe questions how we understand, strategize and quantify our immaterial and emotional lived experiences. With a BA in Russian Studies & Studio Art from Oberlin College (2008) and an MFA in Time & Space Arts from the Finnish Academy of Fine Arts (2014) Snowe has exhibited and published throughout Europe, the US and online. Recently Snowe's work has been shown at Banner Repeater (London), Custom Program (NYC), Elizabeth Foundation for the Arts (NYC), SOHO20 (NYC), Upfors (Portland), Sorbus (Helsinki), kunstenaarsinitiatief beyoncé (Amsterdam), Titanik (Turku), Interstate (NYC), and NURTUREart (NYC). Resent residencies include Schloss-Post (digital) and SPACE Art & Technology (London). Snowe's work has been featured in The New York Times, Anna Magazine, Art Monthly, Rhizome, Helsinki Sanomat and Tongue, Taste, Appetite.

June 11 Zentrale, Vienna
June 13 A Tale of a Tub, Rotterdam
June 14 Marwan, Amsterdam
June 15 Jupiter Woods, London
August 3 American Medium, New York
August 19 Driveway 327, Los Angeles